July 13, 2023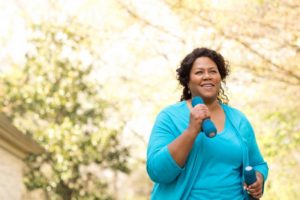 "I lost 30 pounds in my first month!" "You can lose weight without dieting or exercise!" If the promises made by weight loss programs sound too good to be true, they probably are. Contrary to what ads and commercials try to tell you, weight loss programs are not necessarily successful if you drop a ton of weight in a short period of time. It also matters how long you're able to keep the pounds off and whether you are staying healthy.
So, what are the necessary tenets of a successful weight loss program? How can you know whether you're doing it the right way? Here are things you need to do to successfully lose weight!
Stay Motivated
If you are not mentally prepared or committed to your weight loss, it won't happen. You need to resolve to make healthy changes to your lifestyle if you want to see results. That said, you will probably experience days when you falter or when your motivation is lower than usual. Don't let these days completely derail your wellness journey. Start the next day fresh and do what you can to keep your goal at the front of your mind.
You can stay focused on your goal by putting reminders on your mirror or on the fridge. Writing it down can also help you remember what you're working toward.
Eat Healthy, Nutritious Foods
Any successful weight loss program will include a healthy diet of foods that give your body the nutrients it needs to function optimally. If you struggle to eat unprocessed, nutritious foods, explore more recipes, because there are ways to make healthy foods absolutely delicious!
Just because you are being careful about what you eat, it doesn't mean you must abstain from all goodies. The key is to keep occasional indulgence within reasonable limits. Instead of having a bowl of ice cream every night, perhaps you can save it for the weekend. Or maybe, rather than having a plateful of pasta, you can have a smaller portion with a larger portion of the salad. These little changes in your diet can result in a lower weight over time.
Be More Active
Many people these days have pretty sedentary lives, sitting at a desk for work and then sitting on the couch playing on their phone or watching TV. Although exercising at least 30 minutes every day is important, even little efforts can help you burn more calories, such as parking farther away from the store, walking the dog, cleaning the house, and taking the stairs instead of the elevator.
Have Support
Although weight loss requires a considerable amount of self-discipline and self-motivation, everyone needs support from others every now and then. Sometimes, it can be difficult to ask a loved one or friend to help keep you on track with your goals, so having a medical team on your side can be extremely beneficial. Not only can they hold you accountable, but they may be able to offer supplements or treatments that help you shed excess weight more efficiently.
Ultimately, if a fad diet or program doesn't include these basics, it likely won't give you the kind of results you're looking for—the kind where you can keep the weight off in the long term and be healthy and strong.
About the Practice
Richardson Pain & Wellness has services ranging from cosmetic procedures to pain management to weight loss. For weight loss, our team can put together a plan, consisting of dietary and exercise recommendations as well as supplements like Sermorelin, Vitamin B12, and others. If you are interested in learning more about possible methods of effective weight loss, reach out to us online or call our Richardson office at 972-907-1125 for an appointment.
Comments Off

on 4 Essential Tenets of Successful Weight Loss
No Comments
No comments yet.
RSS feed for comments on this post.
Sorry, the comment form is closed at this time.