June 28, 2023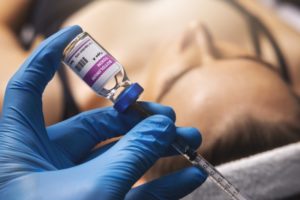 Thanks to rumors, news stories of botched cases, and tall tales, you may think you know about BOTOX injections, but chances are you've only heard the myths surrounding this treatment. What is the truth behind the fiction? Keep reading to find out!
Myth: BOTOX Injections Hurt.
In the hands of a skilled and experienced injector, the BOTOX procedure shouldn't hurt. It needs to be applied in the right area to target the muscles causing wrinkles, and as long as your injector has a steady hand, you shouldn't experience discomfort. In other words, you don't need to feel apprehensive about feeling significant pain while getting BOTOX injections.
Myth: You Won't Be Able to Show Emotion After BOTOX Treatment.
On TV or in movies, people are mocked for the "frozen" look they get after BOTOX, but this is not common. You should still be able to smile, frown, and otherwise emote—just with fewer fine lines and wrinkles on your face. You should look perfectly natural following treatment.
Myth: BOTOX Is Only Used on Fine Lines and Wrinkles.
Although cosmetic use is what BOTOX is most commonly known for, it has several other uses. In fact, BOTOX is a treatment many patients use to fight muscle spasms and migraines because it paralyzes specific muscles that can lead to these problems.
Myth: You Can't Stop BOTOX Injections Once You Start.
The substance that makes up BOTOX is not addictive, meaning you do not have to continue receiving injections, unless you want to. Many patients choose to keep getting BOTOX treatments so they can maintain the amazing results, which typically last between three and four months.
Myth: Wrinkles Will Get Worse After Stopping BOTOX Injections.
Along the same lines, some patients are hesitant to get BOTOX because they believe that their wrinkles will only get deeper after the injections wear off months later. Your wrinkles will gradually return to where they were before BOTOX treatment and then eventually get deeper as you age, but not as a direct result of the injections.
Myth: BOTOX Is Toxic to the Body.
The full name of BOTOX is diluted botulinum toxin; however, this treatment is not toxic to humans. It only temporarily paralyzes muscles near the injection and does not spread to other parts of the body. Since it was first used in the 1980s, patients who have received BOTOX injections have not shown any residual effects in the long term.
In the end, understanding the truth about BOTOX can help you determine whether you could benefit from this treatment. Don't let misinformation keep you from taking years off your appearance and loving who you see in the mirror.
About the Practice
Richardson Pain & Wellness is a truly unique clinic in that we help with many various issues, including pain management, medical weight loss, and anti-aging treatments. In addition to BOTOX, we offer dermal fillers, peptides, platelet-rich plasma injections, facials, and much more. To schedule an appointment, reach out to our office at 972-907-1125 or visit our Contact Us page.
Comments Off

on 6 Myths About BOTOX Injections You Shouldn't Believe
No Comments
No comments yet.
RSS feed for comments on this post.
Sorry, the comment form is closed at this time.