May 29, 2023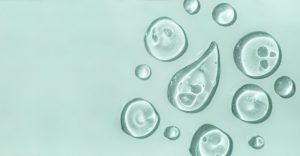 As you scroll through your endless feed, you see photos of people who look incredibly good for their age and wonder how they do it. In one of your favorite influencer's posts, they mention using peptides for anti-aging. Unlike certain fads that come and go quickly, the use of peptides is well documented, but you may want to know more about this treatment before you follow in your influencers' footsteps. Get what you need to know here!
What Are Peptides?
Simply put, peptides are molecules made of long chains of amino acids that help your cells communicate with each other. Peptides aid in many natural processes in the body, such as producing hormones, metabolism, growth, and more. When it comes to skincare, peptides signal the need for new skin cells, which reduces inflammation, fights acne, and makes skin more flexible.
Although you can get peptides naturally from certain foods, namely milk and eggs, synthetic peptides created and perfected in a lab are often more effective because they specifically target skin for anti-aging purposes.
Benefits of Peptides
In terms of effectiveness, treating your skin with peptides is one of the most effective ways you can accomplish your goals for anti-aging. This treatment reduces wrinkles when peptides communicate for the cells to produce more collagen and elastin, making skin appear smoother and younger.
In addition to lessening wrinkles, peptides can help skin hold onto its elasticity, which often fades with age. Instead of looking less firm and loose, skin can remain tight and strong, holding onto its youthful glow.
On the skin, inflammation can lead to blemishes, wrinkles, and even more permanent skin damage from the sun over time. Fortunately, peptides carry a message to reduce inflammation in the skin cells, not only decreasing acne and breakouts, but also making skin look more even.
Best Peptides for Anti-Aging
There are many different peptides on the market, but here are the four most popular ones:
GHK-Cu peptide
Matrixyl
Argireline
Collagen peptides
Various types can accomplish certain goals, so it's important to talk to your team about the results you want to see. They can help you choose the one that may best suit your needs.
Nos that you know a little bit more about what peptides are and how they are used, you can go into a consultation with more specific questions. Pretty soon, you'll be posting your own success photos on social media!
About the Practice
Richardson Pain & Wellness is not your average clinic. We offer some of the usual anti-aging treatments like BOTOX injections and dermal fillers, but also offer less well-known solutions like peptides, Sermorelin, and others. In addition, we can provide weight loss treatments, pain management assistance and more. To schedule a consultation with us, call our Richardson office at 972-907-1125 or visit our website for more information.
Comments Off

on Peptides: The Secret to Younger-Looking Skin
No Comments
No comments yet.
RSS feed for comments on this post.
Sorry, the comment form is closed at this time.