May 15, 2023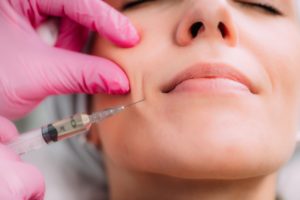 You love hanging out with your old friends. They've known you forever and always make you laugh, but as you get ready to meet up with them, you notice in the mirror that your face looks older than you'd like, particularly around your mouth. Suddenly, you feel self-conscious about your age and appearance.
Did you know that you don't have to simply accept the natural aging process? Although laugh lines indicate a lifetime of happiness, you may not want to show it on your face. But what exactly are laugh lines, and how are they treated? In this post, you'll find the answers you're looking for.
What Are Laugh Lines?
As the name implies, laugh lines are folds in the skin or lines connecting the outside of each nostril to the corner of the mouth that show up when you smile or laugh. When your skin is young, full of collagen and hyaluronic acid, and flexible, it fills in these lines again when your face returns to its neutral state.
When you get older, however, these lines can become visible whether you're laughing or not. They can be deep and permanent in that they don't disappear when your face relaxes. Over time, these wrinkles can become more pronounced and distracting. Fortunately, there's a way to turn back the clock on these wrinkles and help your skin look fuller and more youthful again.
How Do Dermal Fillers Work?
Collagen decreases over time, causing skin to sag and appear thin. That's when laugh lines become more apparent and can make you look older than you truly are. Sun exposure without the use of sunscreen and extreme weight changes can also exacerbate these wrinkles.
A dermal filler is an injection of substances that can replace lost hyaluronic acid and "fill" in the skin, making it appear similar to how it did beforehand. Essentially, dermal fillers help draw nutrients back to the skin and help it achieve a healthier volume through water balance, creating a softer, youthful glow.
Why You Should Consider Getting Dermal Fillers
If you want to reduce the appearance of laugh lines, you definitely need to think seriously about getting dermal fillers because of the following:
The injections only take a couple of minutes to administer and involve very little discomfort.
The results can last between 6 and 12 months.
Improvement can be seen almost immediately.
Before your next hangout with old friends, reach out to an anti-aging team that can help you minimize your laugh lines and look your best!
About the Practice
At Richardson Pain & Wellness, our mission is to help patients overcome common issues that are holding them back from living their best lives. As a result, our services are varied, including medical weight loss, pain management, anti-aging, and hormone therapy. For anti-aging treatments, we are proud to offer BOTOX, dermal fillers like Juvederm, and other injections and supplements to take years off your appearance. If you are interested in learning more about our anti-aging procedures, you may contact our office online or call 972-907-1125.
Comments Off

on Dermal Fillers: Your Answer for Laugh Lines
No Comments
No comments yet.
RSS feed for comments on this post.
Sorry, the comment form is closed at this time.