April 11, 2023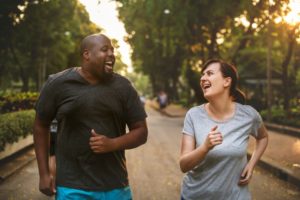 Everywhere you look, you see commercials claiming that the secret to weight loss has finally been discovered. "Take this pill." "Try these diet foods." "Get this exercise machine." With so many fad diets and exercise devices available, it can be difficult to get down to the most important elements of weight loss. However, if you want to be successful, aerobic exercise must become part of your daily routine (or most days). In fact, it's the first thing you need to start doing in your weight loss journey!
Why Exercise Is Important
When you eat, you bring in calories or energy. Unless you burn or use that energy, it is converted into fat cells, stored in case food becomes scarce. If you have excess fat, you need to burn more calories than you consume. Exercise "turns up the heat," takes the calories and fat you have, and uses that energy. In other words, physical activity is essential to get rid of unwanted weight.
On a related note, exercise can also strengthen and tone your muscles, meaning that you can not only weigh less but also have a stronger, leaner appearance as well.
Exercise You Need
At minimum, you should have 30 minutes of exercise most days per week. For some, this may involve brisk walking; for others, it's swimming laps or jogging. Perhaps you prefer Pilates or lifting weights, or you like playing basketball or dancing. Simply put, movement is beneficial for your health and for burning calories. What that movement specifically looks like is up to you!
Losing weight through regular exercise does not happen overnight. In fact, it can take some time, but being active is by far the healthiest way to burn fat and keep your body strong.
Support and Supplements
Although exercise is the most effective method to lose weight, it is far from being the only one. In fact, many who try to shed excess pounds through exercise alone do not see the kind of results they want. Medical weight loss offers natural ways to increase metabolism and give you more energy without negative side effects.
Unlike diet suppressants, which can be dangerous, weight-loss supplements like Human Chorionic Gonadotropin (HCG) and Sermorelin further activate the body's natural process of burning calories. Working with a trusted medical team on your weight loss can ensure that you use all methods at your disposal safely.
Those ads for fad diets can seem enticing, but they may be making false promises. If you are serious about losing weight, you need to make sure exercise is part of your routine and get in touch with a medical team dedicated to your success.
About the Practice
Richardson Pain & Wellness is a clinic that focuses on helping patients be the best versions of themselves. For weight loss, we offer HCG and Sermorelin injections as well as support for diet and exercise. In addition, we provide services for pain management and anti-aging. If you are interested in learning more about our practice or our services, you can contact us by calling the office at 972-907-1125 or visiting our Contact Us page here.
Comments Off

on Exercise: The #1 Most Effective Weight-Loss Method
No Comments
No comments yet.
RSS feed for comments on this post.
Sorry, the comment form is closed at this time.