February 6, 2023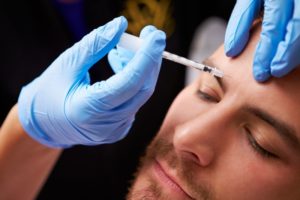 When it comes to anti-aging treatments, the most popular one available is BOTOX. An estimated 7 million Americans were injected with BOTOX in 2018 alone, and this number keeps rising. But how much do you really know about it? How does it actually rid of wrinkles?
Before you have anything injected into your face, you should understand more about the substance. Keep reading to learn about this treatment, its history, and how it can help you lead a happier life!
What BOTOX Is
BOTOX or botulinum toxin is created by a specific type of bacteria. Found in nature, this bacterium can cause botulism, a condition in which the muscles are paralyzed. Usually untreated botulism begins with the face, mouth, and throat and then spreads to the rest of the body.
Botulinum spores can be found in honey, which is why infants are not supposed to eat it until they are at least 12 months old, when sensitivity to these spores and to botulism becomes much less common.
How BOTOX Works
Some people mistakenly think that BOTOX "fills" in wrinkles, but it is completely different from dermal fillers. When BOTOX is injected, it blocks certain neurotransmitters, relaxing or paralyzing the muscle. As a result, it doesn't contract, thereby reducing wrinkles.
How BOTOX Started
The bacterium Clostridium botulinum was identified in Belgium by a scientist named Emile Pierre van Ermengem after an outbreak of botulism in the area. In the 1940s, Dr. Edward Schantz was the first scientist to isolate the botulinum toxin in crystalline form.
At first, during the 1970s, BOTOX was used to treat patients with crossed eyes, relaxing the muscles responsible for eye control and spasms. Over time, BOTOX's other uses were discovered. For instance, while scientists administered the treatment to monkeys for other conditions, they noticed that the skin between the eyes, just above the nose, appeared smoother.
Since first getting FDA approval in 1989, BOTOX has been used to treat many functional as well as cosmetic issues, including for off-label purposes.
How BOTOX Can Benefit you
With so many different applications for BOTOX, it is one of the most versatile treatments available. You just need to work with a provider who understands where and how much to inject. In addition to anti-aging treatment, BOTOX injections can be administered to treat migraines, lessen jaw pain, cervical dystonia, urinary incontinence, excessive underarm sweating, and more!
Now that you understand more about this injection, you can make a more informed decision about whether it could be right for your cosmetic needs. You can slow down the clock through BOTOX with a qualified team!
About the Practice
Richardson Pain & Wellness is a multi-service clinic that offers help with many different issues, including anti-aging, weight loss, pain management, and hormone therapy. We offer BOTOX for cosmetic improvements to skin, and our trained team knows how to give you the results you're looking for. To learn more about BOTOX or to schedule a treatment, contact our office online or call 972-907-1125.
Comments Off

on The Interesting History and Background of BOTOX
No Comments
No comments yet.
RSS feed for comments on this post.
Sorry, the comment form is closed at this time.