August 26, 2022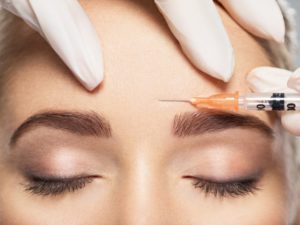 After looking closely at your face in the mirror, you notice that you skin is showing signs of aging on your forehead and around your eyes. You're not ready to succumb to wrinkles, so you decide to get BOTOX injections to turn back the clock.
However, looking ahead at your schedule, you have several important events coming up (perhaps a class reunion, a big business meeting, or re-entering dating) for which you want to look your best as well. But will the timing of your BOTOX treatments work out to your advantage? Here we answer your questions about how long BOTOX lasts, how often you can get it and other essential information!
How Does BOTOX Work?
BOTOX stands for botulinum toxin, which is injected into targeted areas of the face. This toxin paralyzes the muscles under the skin that contract and create wrinkles on top. As a result of relaxing these muscles, the skin is also able to stay in a relaxed, unwrinkled position.
This treatment has been around for decades and has shown to have a noticeable, but still natural-looking, effect; keep in mind, however, that the results depend on how deep the wrinkles are, how elastic the skin is, and how old you are when undergoing treatment. In other words, if you wait until you are already in your 60s, you shouldn't expect to necessarily look 30 again with BOTOX treatment. Otherwise, the results would not appear natural.
How Long Does BOTOX Take?
The treatment itself usually only takes a few minutes, even though it depends on how many injections you're receiving. Afterward, you may need to wait a few days before the toxin takes effect.
How Long Does BOTOX Last?
Although it may vary from patient to patient, typically, the effects of BOTOX treatment last for about four to six months before they wear off. After that point, wrinkles may start to reappear as muscles regain motion. That's why many people opt for frequent treatment to hold onto the results.
How Frequently Can I Get BOTOX?
You shouldn't get BOTOX treatments too soon after the previous one because you can develop a resistance to the toxin. However, you may receive injections after at least three months, but many wait until the six-month mark for the next treatment.
In the end, timing can be a little tricky, but if you plan ahead and let your aesthetic team know about your concerns, you can schedule your BOTOX treatments in a way that meets your needs and prepares you to look and feel your best, no matter what comes up in life!
About the Practice
Richardson Pain & Wellness is not only concerned about how you feel in terms of pain but also in terms of appearance. We want all our patients to feel confident about their bodies, which is why we offer BOTOX as well as other anti-aging treatments. We also provide weight management services. If you have questions about BOTOX or other procedures, you may contact Richardson Pain & Wellness by calling 972-907-1125 or visiting the Contact Us page here.
Comments Off

on Do You Have Time for BOTOX?
No Comments
No comments yet.
RSS feed for comments on this post.
Sorry, the comment form is closed at this time.