August 12, 2022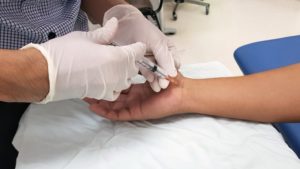 Your knee is killing you because your arthritis is acting up again. You've tried icing them and taking pain relievers, but the discomfort won't go away, limiting your activity and mobility. You've heard of some people getting a cortisone shot to help hurting joints, but you may not know exactly what that is. Should you ask your medical team for a steroid shot instead? What's the difference between that and a cortisone injection? Keep reading to learn more!
What Is Cortisone?
Cortisone is a human-made version of the hormone cortisol, which lowers inflammation. Also called a corticosteroid, this injection is not a pain reliever; however, when inflammation is reduced, pain relief is often one of the side effects of this treatment. In other words, cortisone is a type of steroid.
Your medical team may prescribe cortisone injections to address inflammation if you have gout, osteoarthritis, back pain, bursitis, and other similar ailments that affect specific joints in the body.
What Are the Benefits of Cortisone Injections?
Unlike many other anti-inflammatory medications, cortisone injections, especially if you are receiving just one or perhaps, usually don't cause the same stomach issues. Although it can come with its own set of potential side effects, cortisone addresses inflammation in just one area like your knee or shoulder, focusing the medication where it needs to go.
What Are the Limitations of Cortisone Injections for Joints?
Although a corticosteroid shot is beneficial in the short term, it are not intended for managing inflammation with long-term use. As a result, you shouldn't rely on getting repeated shots for extended periods of time. However, one or two injections in a hurting joint can offer a few months' reprieve from pain.
How Can I Know Whether a Cortisone Injection Is Right for Me?
Just because a particular joint in your body is giving you trouble, it does not necessarily mean that cortisone is the best option for you. Remember that cortisone is used to treat inflammation, and not all hurting joints suffer from inflammation. As a result, you will need to meet with a medical team to identify the cause behind your pain to see if you qualify for this treatment.
In the end, this steroid injection could help you continue to function until a longer-lasting solution for your pain and the root cause of the problem can be found. If you are interested in learning more about the benefits and risks of cortisone injections, contact your medical team and discuss your eligibility today!
About the Practice
The team at Richardson Pain & Wellness specializes in helping patients find relief from pain. In addition to corticosteroids, we also offer platelet rich plasma injections as well as stem cell work. Our other services include weight loss and anti-aging treatments. If you are interested in learning more about cortisone injections, you may contact us to schedule an appointment online or by calling our office at 972-907-1125.
Comments Off

on Steroid or Cortisone Injections: Is There a Difference?
No Comments
No comments yet.
RSS feed for comments on this post.
Sorry, the comment form is closed at this time.