July 28, 2022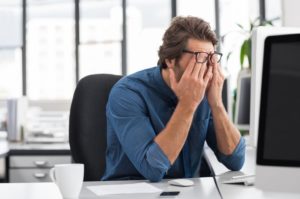 As part of your health goals, you decide to eat nutritious foods, exercise, drink plenty of water, and even take vitamin supplements. However, you still don't feel like your body is functioning as it should. There may be something missing from your routine—B12! While this vitamin can be absorbed through meat in your diet, some require an injection for the best results. How can you tell that you need these supplement injections to give your body that extra push in the right direction? Check out these four signs of B12 deficiency.
You Have Low Energy
Do you feel tired even after you've had a full night's rest? The problem might not have anything to do with your sleep but with your B12 levels. B12 affects red blood cell production, and these cells take oxygen throughout your body, which enables your other cells to produce energy. When you have insufficient B12, your body can feel fatigue, despite how many hours of quality sleep you may have had the night before. If you don't get enough B12 through your diet or your body can't absorb B12 efficiently, injections can help you feel more rested.
You Are Struggling to Lose Weight
A B12 deficiency can do more than make you feel sluggish; it can also slow down your ability to lose weight. When your cells can't convert fat and protein into energy (i.e., you have a slow metabolism), your body won't be able to burn excess pounds of fat, even if you choose a healthy diet and exercise regularly. Fortunately, B12 injections can get your metabolism back on track and help you finally get rid of the weight you want to lose.
You Are Getting Sick More Often Than Usual
In addition to red blood cells, B12 helps your body produce white blood cells, which are responsible for keeping you healthy. Without enough B12, you can struggle to fight off infections more frequently and even develop allergies when you didn't have them before. Regular B12 injections can help strengthen your immune system so that you stay healthier and function more optimally.
You Have Trouble Falling Asleep
Did you know that your body naturally makes tryptophan, which helps you fall asleep? You don't just get it from turkey and some other foods, but B12 plays an important role in producing this amino acid. If you haven't been sleeping well or take a long time to fall asleep, a B12 injection can help you naturally get higher quality rest through the night.
In the end, the best way to know that you have a B12 deficiency is to work with a medical wellness team. They can run tests to identify where you can improve; however, if you keep an eye out for these signs, you can get an indication of the treatment that might help you achieve your health goals.
About the Practice
The team at Richardson Pain & Wellness offers many services for helping patients reach overall wellness, including pain management, medical weight loss, anti-aging therapy, and more. They offer B12 injections as well as other therapies to encourage faster metabolism and increase energy levels, which can help with weight loss. To schedule an appointment and see if B12 injections are right for you, you can contact Richardson Pain & Wellness by calling 972-907-1125 or clicking here.
Comments Off

on 4 Signs That You Could Use B12 Injections
No Comments
No comments yet.
RSS feed for comments on this post.
Sorry, the comment form is closed at this time.