July 12, 2022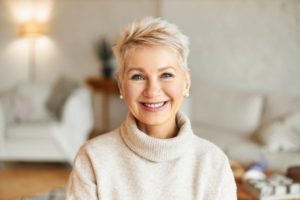 You know you have little wrinkles around your eyes and forehead, but you've told yourself that they aren't that bad. Then one day you see a photo of yourself from 10 or even 20 years ago. You realize that your wrinkles are more pronounced than you thought!
People are on average about 35 years old when they start BOTOX treatments, but what if you are solidly in your 40s, 50s, 60s, or beyond? Are you too old to benefit from BOTOX injections? Time may be passing, but it's not too late to take advantage of BOTOX!
BOTOX for Older Wrinkles
As you get older, your skin becomes drier and thinner because it takes longer for the cells to reproduce and recover. Collagen production also slows down, meaning that your once flexible, youthful skin doesn't regenerate as quickly.
BOTOX, or Botulinum Toxin Type A, is a substance that relaxes the muscles in the face that contract and eventually lead to deep-set wrinkles. As a result, these strategically placed injections reduce the appearance of fine lines. Although most people begin treatments before age 40, there is not an age limit for BOTOX injections; however, those who are older should not expect the same results as younger folks and take advantage of other anti-aging treatments like dermal fillers in addition to BOTOX.
Setting Realistic Expectations
If you are over 60 years old and get BOTOX injections, do not assume you will look 30 years younger. BOTOX does make a difference to your appearance, but it will be more subtle—otherwise, the results would look unnatural and strange. If you want to take off about 10 years from your facial wrinkles, this treatment could still be helpful!
Making a More Comprehensive Anti-Aging Plan
Although BOTOX is the most commonly known and used anti-aging procedure, it certainly isn't the only one available. Other substances can be injected into the body to promote a more youthful look like fillers, platelet-rich plasma, B12 supplements, and Sermorelin. There are also other treatments, such as facials, micro needling, and more, that you could be adding to your overall anti-aging plan for more success. To figure out which procedures would be most beneficial, it's smart to consult a team of professionals who can help put together this plan for your unique face!
In the end, it's not too late for you to turn back the clock a bit with BOTOX. You simply need to realize that it will not magically make you several decades younger and that you need to have a smart overall game plan. With these concepts in mind, you can get BOTOX treatment and be satisfied with the results, no matter how old you are!
About the Practice
Richardson Pain & Wellness is a practice that offers more than just pain management and weight loss services. We also provide anti-aging treatments including injectables like BOTOX, fillers, B12, and more. If you would like to learn more about our services, you can schedule a consultation by calling our practice at 972-907-1125 or visiting our Contact Us page here.
Comments Off

on Are You Too Old for BOTOX?
No Comments
No comments yet.
RSS feed for comments on this post.
Sorry, the comment form is closed at this time.