June 8, 2022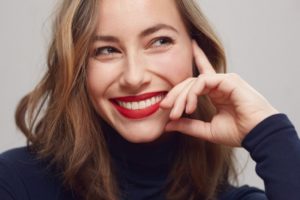 If you're like most people, your face is the most prominent, eye-catching feature about your body. After all, most social media profiles show only your face! However, if you are going to undergo a facial procedure or if you have recent facial trauma, you could have fresh scars that could detract from your appearance or hinder your self-esteem.
The good news is that Botox could be an option for reducing these scars and helping you feel confident in yourself again! Keep reading to learn how this treatment for wrinkles could make a huge difference and reduce your scars as you heal.
How Botox Works
Botox is an injection of a chemical called botulinum toxin, which is a muscle relaxer. Basically, it can be used to force overly active or tight muscles to become less tense. For patients who suffer from chronic migraines, Botox can reduce headaches by relaxing the muscles used to move the temporomandibular joint (TMJ) or jaw joint, which is a common cause of frequent migraines.
In the world of beauty, Botox is most widely known for its use in decreasing the appearance of fine lines and wrinkles in the face. It works by causing the facial muscles to calm down, allowing use of the muscles without impacting the surface skin.
What Botox Can Do for Healing Scars
Although more studies are needed, researchers have found that Botox may improve the appearance of scars as they heal from facial trauma or surgical procedures. Basically, the chemical compound prevents muscle contractions that would otherwise pull on the healing tissue. As a result, the skin is allowed to heal with a smaller, less visible scar. In fact, the half portions of incisions that had Botox treatment tended to look better than the half of facial scars that were given a placebo.
However, it's important to note that this study did not explore the use of Botox on older, existing scars. Also, Botox is only effective in certain areas of the face, such as the forehead, and probably wouldn't work everywhere to lessen scars. Obviously, additional research can confirm or help define just how beneficial Botox can be for facial scarring.
In the end, if you have recently experienced facial trauma or a procedure in the face, you don't have to feel self-conscious. Your scars can be reduced through the use of Botox as well as other therapies that can help your skin regain as much of its natural beauty as possible. Although your incisions or scars may look conspicuous now, Botox could allow your skin to heal better in the long run.
About the Practice
At Richardson Pain & Wellness, patients can find many different services to improve their appearance. From medical weight loss to anti-aging treatments like Botox and HGH injections, our menu is varied depending on your specific case. If you would like to discuss your options, you need to schedule an appointment at Richardson Pain & Wellness by contacting us either online or calling our office at 972-907-1125.
Comments Off

on Botox for Facial Scars: Helping in the Healing Process
No Comments
No comments yet.
RSS feed for comments on this post.
Sorry, the comment form is closed at this time.