May 28, 2022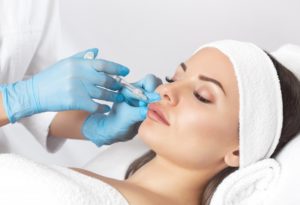 When you inspect yourself in the mirror, do you generally like what you see? Perhaps years of laughter and smiling have caught up with you and are showing on your face. Maybe you're not happy with how thin your lips look or how your skin is starting to lose elasticity and volume.
Well, you don't have to turn to a plastic surgeon or undergo painful surgery to take those years off your appearance. Through dermal fillers, just a few injections, your face can look more youthful. Keep reading to learn about the types of fillers and why they are worth your time.
Why You Should Consider Dermal Fillers
If you're unhappy with your appearance and the toll age is taking on your face, you can restore some of your youth with fillers. They work in various ways to make your skin look fuller, plump areas that are losing volume, and reduce the sight of wrinkles and fine lines.
Types of Dermal Fillers
Although most fillers have the same effect, there are actually five different types of fillers:
Calcium hydroxylapatite—This filler has natural-looking results and only rarely has side effects because it is biosynthetically produced.
Hyaluronic acid—Juvederm and other similar fillers are among the most popular because they take advantage of a chemical that naturally occurs in the body to minimize scars, lines, crow's feet, and wrinkles.
Polyalkylimide—This filler is semi-permanent and is used to thicken thin lips, address deeper-set wrinkles, and fill in areas that have lost volume because of age.
Polylactic acid—Although polylactic acid is synthetic, it stimulates the body to produce collagen naturally. As a result, it is often used to plump lips and treat laughing lines.
Polymethyl-methacrylate microspheres—As a semi-permanent filler, providers often choose this option for medium to deep wrinkles, but it requires an expert to properly administer.
You should be aware that some fillers need to be administered several times over the course of a few months to see noticeable results.
Which Filler Is Right for You?
With so many products out on the market, you may feel confused and unsure which option would best suit your needs and the facial shape you want to achieve. Fortunately, you don't have to make this decision solo. After looking at your skin and face, your medical team can provide professional advice about the fillers that could help you reach your goals.
Ultimately, not all fillers are the same. Understanding the types of filler you can get can help you know what to expect from treatment and find the solution that will enhance your face. That way, you can love what you see in the mirror.
About the Practice
Although Richardson Pain & Wellness offers other services including pain management, medical weight loss, and others, we also provide anti-aging treatments. In addition to fillers, we can administer BOTOX, platelet-rich plasma injections, vampire facials, micro-needling, and more. If you would like to learn more about fillers or our other treatments, you can schedule a consultation with our medical team by calling our office at 972-907-1125 or going to our Contact Us page.
Comments Off

on 5 Types of Dermal Fillers and Deciding to Turn Back the Clock
No Comments
No comments yet.
RSS feed for comments on this post.
Sorry, the comment form is closed at this time.