May 13, 2022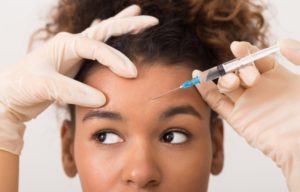 You hate to admit it, but those wrinkles on your face are starting to show your age. You could just take what nature has given you as the years pass by, but can you make the clock slow down? Can you hold onto your youthful appearance for longer? With BOTOX anti-aging treatment, it's possible!
As a responsible adult, you probably want to know the potential side effects of any treatment you're considering. Read on to learn about how BOTOX could negatively affect you in the short term while it makes you look younger.
Possible Side Effects of BOTOX
As with other treatments, BOTOX is not without side effects. After all, when you get BOTOX, remember that you are receiving an injection, which means you are accepting a few risks. Here are the most common symptoms you may have after getting these treatments.
Discomfort or Headaches
Depending on individual tolerance of needles and the location, BOTOX injections may come with a little bit of pain at the site. Overall, these needles are extremely small, but the substance needs to be injected in order to prevent the muscles that cause wrinkles from contracting. Although most patients feel the discomfort subside soon afterward, sometimes it can take a few hours or even a day or two.
When administered to certain areas on the face, BOTOX can lead to a headache, although this symptom rarely occurs. Most of the time, this headache is mild and stops within a few days of the injection. If you experience this symptom, and it persists longer than expected or increases, you need to contact your medical team to see if it is a complication of the BOTOX or another problem altogether.
Redness
Just as certain skin types react differently to waxing or sunburns, reactions can vary from patient to patient. Those who have fair skin and sunburn easily are more likely to experience redness when BOTOX injections are administered. The good news is that it should go away within a few hours.
Bruising
Some patients see a slight bruise at the injection site. More skillful providers are able to give BOTOX treatment without bruising, but it also depends on your skin type and your propensity to bruising. Usually it is light in color and can be concealed with makeup. Within a week, any bruising should be gone.
Why Potential Side Effects Are Worth the Risk
Perhaps at this point you are thinking that BOTOX might not be worth potentially dealing with the side effects. However, remember that the minor negative things that could happen pale in comparison to the benefits. While these side effects may only last a few days, BOTOX treatment allows you to remove years of wrinkles from your face for up to six months. These inconveniences outweigh the temporary side effects.
Although it's important to be aware of the risks, you may still decide to move forward. Every treatment comes with side effects, but reducing the appearance of wrinkles can give you a confidence boost that makes it all worthwhile.
About the Practice
Richardson Pain & Wellness offers many services, including anti-aging treatment. Other services consist of medical weight loss and pain management. BOTOX injections are administered by a highly trained team and your treatment plan is created with just you in mind. Would you like to learn more about our anti-aging treatments or BOTOX specifically? Don't hesitate to reach out to our team and schedule a consultation by calling our office at 972-907-1125 or visiting our Contact Us page.
Comments Off

on BOTOX Side Effects You Should Know About
No Comments
No comments yet.
RSS feed for comments on this post.
Sorry, the comment form is closed at this time.