March 31, 2022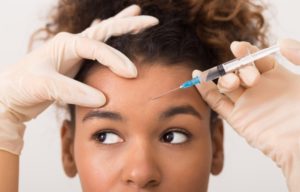 Less is more—or so the saying goes. In the world of beauty, more is usually considered more. Since the beginning of the pandemic, in terms of beauty trends, a minimal approach has become much more popular. Instead of seeking traditional BOTOX, many people want to try a more moderate treatment called micro-BOTOX. Keep reading to learn more about this procedure, its effects, and why you should consider it!
What Is Micro-BOTOX?
In some ways, micro-BOTOX is very similar to traditional treatment—the chemical is the same, and both are injected—however, there are some key differences between the two. With micro-BOTOX, the dose is much lower, and the BOTOX is injected multiple times. Also, instead of injecting into the muscle, the provider targets the upper layers of skin.
What Are the Benefits of Micro-BOTOX?
When injected into muscles, BOTOX relaxes natural contraction, reducing fine lines and wrinkles. However, when smaller doses of BOTOX are put more into the superficial skin, it helps control oil, sweat, and redness. It also minimizes pores, potentially meaning less breakouts. As a result, the skin has a more youthful, radiant glow.
With micro-BOTOX, some providers barely enter the muscle tissue with the injection, and low dose of BOTOX subtly softens wrinkles.
Am I a Good Candidate for Micro-BOTOX?
If you have skin disorders or neuromuscular diseases, if you are pregnant, or if your face has deep scars, you may not be able to receive BOTOX injections. Basically, if you qualify to get normal BOTOX, you should be able to get the micro version.
Not all patients need drastic measures to achieve a younger look. Sometimes, those who have traditional BOTOX injections appear to be frozen or can't emote as much as they used to. More deeply administered micro-BOTOX, however, only just reaches into the muscle, lightly paralyzing it and leading to a softer appearance. Micro-BOTOX, the kind administered to the skin, may also be helpful for people who struggle with excessive sweating in the face, oily skin, or even acne-prone skin.
The best way to know whether this treatment is the right choice for you is to talk to your anti-aging team. They can help you figure out your needs and find the solution that may give you the results you want.
In the end, this minimalist trend seems to be staying around for a while and for good reason. In this case, less really can be more! By using BOTOX in this way, you can reap the benefits with fewer of the possible negative points. As a result, your face can keep looking as young as you feel.
About the Practice
Richardson Pain & Wellness doesn't just help patients in the Richardson area overcome pain and medical weight loss. We also provide anti-aging treatments, such as hormone replacement therapy, HGH injections, and BOTOX injections. Are you interested in learning more about our services? Contact our team and schedule a consultation by calling our office at 972-907-1125 or contacting us online.
Comments Off

on Less Is More: Micro-BOTOX
No Comments
No comments yet.
RSS feed for comments on this post.
Sorry, the comment form is closed at this time.