February 25, 2022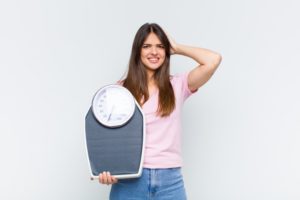 Losing and maintaining weight can be tricky to say the least. When you step onto the scale and see that you've gained some pounds, you can feel confused and frustrated. If you didn't mean to gain weight, you can wonder how this happened and how you can get start to see progress. Often, weight gain can be attributed to little habits. Read on to learn how you may have unintentionally taken a step backward in your wellness journey.
Too Much Screen Time
With phones, tablets, TVs, and computers, there's no escaping screens, but spending too much time staring at them can have a negative impact on your weight because it often entails inactivity. You sit to watch TV. You often are sitting when you text and play on your phone, and you're stuck in a sitting position while you work.
If you have a desk job on a computer, try to get an adjustable desk so you can stand. Also, instead of watching TV or binging shows on your phone for hours straight, get up and go for a walk between shows or burn a few calories by moving your body after you've viewed a few videos.
Inactive Lifestyle
Even if you're not intending to be sedentary, certain choices in your lifestyle could be leading to weight gain. For instance, the decision to take the elevator instead of the stairs may seem small, but making these same kinds of choices over time can add to your weight. The good news is that changing these little habits can build up to weight loss over time as well!
Excessive Sugar and Processed Food
Foods that have been overly processed, such as many baked goods, box meals, and the like, or contain large amounts of sugar have been linked to not only weight gain but also serious medical conditions like diabetes and heart disease. When you don't limit how much of these foods you consume, you are more likely to experience weight gain or have a difficult time losing weight. In fact, in one study, women who drank a sugary soda once per day gained an average of two pounds over two years, while women who didn't stayed about the same weight.
On the other hand, if you eat more whole foods and cut out sugary, processed foods, you can shed more pounds and keep the weight off.
Not Enough Sleep
Getting sufficient sleep is important if you want to lose weight or avoid weight gain. On the other hand, being sleep deprived can make it much easier to snack and cheat. Make sure you are getting the quality and quantity of sleep your body needs to function optimally, or you could turn to food for a pick-me-up.
You may not have gained weight on purpose, but by understanding how you did, you can correct your behaviors and get back on track. As a result, you can better achieve your weight management goals and be your best self.
About the Practice
Richardson Pain & Wellness is a clinic that helps patients become the best versions of themselves. In addition to medical weight loss, we also provide assistance with pain management, hormone therapy, and anti-aging treatments. To learn more about our services and how we can help you achieve your weight loss goals, you can contact our team through our website or by calling 972-907-1125.
Comments Off

on Whoops! Reasons You May Be Unintentionally Gaining Weight
No Comments
No comments yet.
RSS feed for comments on this post.
Sorry, the comment form is closed at this time.