June 12, 2021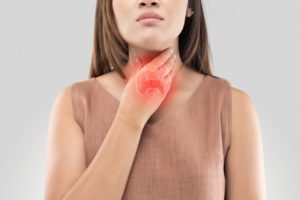 You've tried for years to do what you know you should to be healthy through eating right and exercising on a regular basis. Yet, despite your efforts, you don't seem to benefit from making these better choices. You still feel tired, and maybe you even struggle with depression and weight gain!
Your doctor can take a blood sample and analyze your thyroid function. This organ looks like a butterfly and is located just below your larynx or voice box. It may be small, but it can seriously mess with your body if it's not working properly. Fortunately, conditions involving the thyroid are completely treatable, but when can you expect to feel more normal again after starting thyroid treatment? Read on to find out—after we answer a few other questions first!
What Does Your Thyroid Do?
Along with many other hormones present in the body, the thyroid produces hormones that help with metabolizing food, giving you energy, and regulating temperature. The thyroid also facilitates everyday functioning of several organs, including the heart, muscles, brain, and digestive system. Needless to say, it serves an important role in keeping your body in optimal health.
What Happens When the Thyroid Isn't Producing Hormones Properly?
There are generally two ways in which the thyroid can fail. Hypothyroidism occurs when the thyroid doesn't create enough hormones for the body. People who suffer from hypothyroidism often have depression or a low mood, trouble with feeling cold all the time, joint pain, hair loss, memory loss, and weight gain. On the other hand, patients who have an overactive thyroid (called hyperthyroidism) can feel restless or sleepless yet fatigued, have an increased appetite, lose weight, feel nervous, and shake excessively.
How Are Thyroid Problems Treated?
Although an underactive thyroid and an overactive thyroid are two different problems, they are treated fairly similarly. Treating hyperthyroidism has the added step of inactivating the thyroid, but both conditions need to be addressed through hormone replacement therapy using a synthetic hormone called levothyroxine.
How Long Does It Take for Thyroid Medications to Work?
Not everyone responds to medication the same way. In other words, your body needs plenty of time to adjust to the medication and improve thyroid hormone levels. In fact, you may have to be taking the thyroid medication for up to 6 weeks before you start to notice changes in your symptoms. However, for those who have hypothyroidism or hyperthyroidism, the dramatic change that regulating medication offers is well worth the wait.
In the end, your under or overachieving thyroid can be controlled, helping you have more energy, a better mood, healthier weight management, and many other noticeable benefits. Once you feel better and the hormone replacement therapy starts to work, you'll wish you had done something about your condition sooner!
About the Practice
Richardson Pain & Wellness is a clinic where you can find all sorts of treatments for various problems such as thyroid issues. Hormone replacement therapy is among the many solutions our experienced team offers, including a customized nutrition plan. If you think your thyroid could be the cause of your problems, you can contact Richardson Pain & Wellness and schedule an appointment. Contact us through our website or by calling us at 972-907-1125.
Comments Off

on How Long Thyroid Treatment Takes to Kick In
No Comments
No comments yet.
RSS feed for comments on this post.
Sorry, the comment form is closed at this time.