May 25, 2021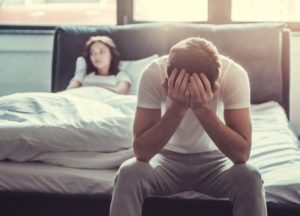 As your alarm rings, you sit up in bed and immediately feel your back hurting, like it always does nowadays. It's been months since you started feeling this pain, but you're not sure how you can get rid of it. If you can, you want to steer clear of taking opioids or other medications to avoid possible addiction, but you're tired of dealing with pain on a daily basis. What could be causing your chronic pain? What options do you need to consider? Read on to learn more about the common problem of chronic pain and what you can do about it!
What Is Chronic Pain?
Everyone experiences pain at some point in life. Whether it's a sprained ankle, a cut, or a minor injury, you're bound to feel some amount of discomfort. In many cases, the pain may be sharp or strong, but it is temporary; eventually it will go away as your body naturally heals. This kind of pain is called acute pain. However, if your discomfort lasts longer than three to six months, it falls under a different category: chronic pain.
What Can Cause Chronic Pain?
Sometimes chronic pain can result from an injury that wasn't properly treated, such as a back or neck injury in a car accident. Other times, chronic pain can simply be the result of repeated use or age, like when runners get knee pain that doesn't subside.
Although not every instance of chronic pain has a known source, it's important to try to find out the root cause so that you can focus your efforts on the right treatment.
What Could Happen If You Don't Seek Medical Help?
Unfortunately, patients who have chronic pain often try to outlast it, hoping it will stop on its own. Even with heat and ice therapy, stretching, and other physical therapy techniques, pain can linger. If this is your experience, don't ignore your chronic pain! It's most likely a signal from your body that something is wrong and requires more advanced care and attention. Medical professionals may be able to properly diagnose the issue and provide specific therapies for your pain management.
How Is Chronic Pain Treated?
The method your medical team uses to treat your chronic pain often depends on where you feel pain and the cause behind it. For instance, if you have consistent shoulder or knee pain, perhaps joint injections with steroids or platelet rich plasma can give you relief. In other cases, physical therapy, which is often accompanied by massage therapy, may be necessary to reduce pain. Perhaps weight management or chiropractic care are in order to address the real issue.
When you turn to a highly trained medical team, you can learn more about your chronic pain and receive specific guidance and therapies. Chronic pain doesn't have to be part of your new normal. You can overcome it and find relief!
About the Practice
Richardson Pain & Wellness is other clinics. We specialize in helping patients understand and deal with pain without the use of opioids and other addictive medications. In addition to joint injections, we also offer physical therapy as means to reduce discomfort. Our highly trained team cares about each patient and customizes treatment to fit their needs and situation. If you would like to learn more about Richardson Pain & Wellness, you can contact us through our website.
Comments Off

on You Don't Have to Fight Chronic Pain Alone!
No Comments
No comments yet.
RSS feed for comments on this post.
Sorry, the comment form is closed at this time.