April 23, 2021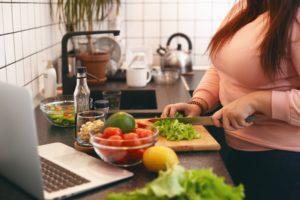 Keto. South Beach. Nutrisystem. Jenny Craig. There are hundreds of diets out there that promise outstanding weight-loss results. You may have even tried many of them, but you always find yourself back at square one, wishing you could keep the weight off. Instead of another failed attempt, you need to get serious with real weight management and medical weight loss. But what does weight management actually entail? Read on to learn how you can get to a healthy weight and stay there.
Understand the Difference Between Dieting and Weight Management
When people think about managing their weight, they often mistakenly think that they need to start a fad diet. While shedding weight quickly may seem appealing, this almost always sets you up for failure. Making drastic cuts and changes in your food choices or pushing too hard at the gym may not be sustainable in the long run and can actually be harmful for your health.
Rather, you need a more balanced, long-term plan to help you achieve a healthy lifestyle. With weight management, you learn moderation, what works best for your body, and how to continue making progress even if you make mistakes. Although the weight may come off at a slower rate, the results will be far more sustainable over time.
Consider Your Age, Weight, and Sex
Every body is different and at a different stage of life. You have to take into account how old you are, your sex, and your current weight when you put together a weight management plan. These factors can influence your approach to food, as well as your fitness and exercise goals. For example, the older you get, the slower your metabolism becomes and the higher your risk for high blood pressure and other health concerns. Diets, on the other hand, treat every person's body the same. By considering these factors, you can form realistic goals, achievable steps toward losing weight, and keep it off with proper weight management.
Don't Expect the Same Results for Everyone
Although it can be helpful to learn about methods that worked for others, you need to take their advice with a grain of salt. One size doesn't fit all—in other words, what works for one person may not work for another. Your friend may have succeeded with a low-carb, high-protein diet; however, it doesn't mean that that same technique is the best approach for you. Try to understand how your body works so that you can take the approach best suited for you.
Managing your weight can feel overwhelming, especially if you've "mismanaged" it for so long. Fortunately, you don't have to do it alone. You can find a provider who can help you learn more about your body, teach you about weight management approaches, offer supplements to jumpstart your journey, and provide guidance and support as you achieve your ideal weight.
About Richardson Pain & Wellness
At Richardson Pain & Wellness, we take a long-term, customized approach to weight management. Instead of providing stimulants that leave you jittery or anxious, we provide guidance and therapies that are personalized to your needs. Together, we'll create a plan that includes meal planning, exercise goals, and sustainable lifestyle changes that can help you achieve your optimal weight. Would you like to meet with our professionals for a weight management consultation? Contact Richardson Pain & Wellness today!
Comments Off

on Weight Management Vs. Dieting: How You Can See Real, Lasting Results
No Comments
No comments yet.
RSS feed for comments on this post.
Sorry, the comment form is closed at this time.