March 8, 2021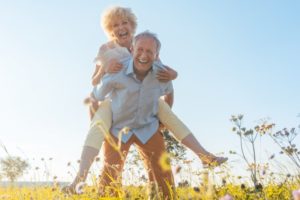 Lately, you haven't been feeling like your usual self. You used to love working out and being active, but you just don't seem to have the energy anymore. You've felt especially tired and unmotivated and like your body is getting weaker than it would naturally with age. Maybe you also struggle with keeping the romance alive in your relationship with your partner.
You could have low testosterone levels and need replacement therapy. It is estimated that one out of five men over age 60 has low testosterone, and that number only rises with age. Read on to learn how this hormone replacement therapy in Richardson can help you feel normal and vivacious again!
Functions of Testosterone
Believe it or not, testosterone is an essential hormone for both men and women. Especially in men, it controls sex drive, promotes muscle mass, increases energy, and can even encourage aggression or competitiveness. In addition, this hormone helps with sperm production. When the levels are not within a healthy range, low testosterone can have a huge impact on your well-being as well as your quality of life.
Healthy Testosterone Levels
While women age 19 and older usually have testosterone levels between 8 and 60 nanograms per deciliter (ng/dL), the minimum level for men is 300 ng/dL. Below that point, men should be diagnosed with low testosterone and treated with replacement therapy. Once a man reaches the age of 30, his testosterone level drops about 1 percent every year. Over time, that adds up!
Symptoms of Low Testosterone
Although testosterone levels naturally lessen over time, men who don't have sufficient testosterone in their bloodstream may experience the following symptoms:
Erectile dysfunction
Infertility
Low sex drive or libido
Irregular sleeping patterns
Lack of motivation or focus
Loss in muscle mass and bone density
Depression
Fatigue
If you notice any of these symptoms, you should get a blood hormone test to see if testosterone is the culprit behind them.
How Testosterone Replacement Therapy Works
Although there are ways you can get your hands on testosterone supplements without having to consult a doctor, this method of treatment involves significant risks to your mental and physical well-being. Hormone replacement therapy should be supervised by a professional team.
Low testosterone may be treated through a topical cream or gel, patch, or injection depending on your needs and your provider. During your treatment, they should carefully monitor you and note any symptoms you may be experiencing.
In the end, having low testosterone doesn't have to alter the way you live. You can continue to feel energetic, focused, and driven. In other words, you can keep feeling like you!
About the Practice
Richardson Pain & Wellness is dedicated to helping patients live life to the fullest. In addition to pain management and medical weight loss, hormone replacement therapy is among their most popular services. They offer injections for testosterone, HCG, thyroid treatments, and Vitamin B12, and topical creams are also utilized for patients. If you think you could have low testosterone, you can contact Richardson Pain & Wellness through their website.
Comments Off

on What Is a Normal Testosterone Level for Men?
No Comments
No comments yet.
RSS feed for comments on this post.
Sorry, the comment form is closed at this time.