December 22, 2020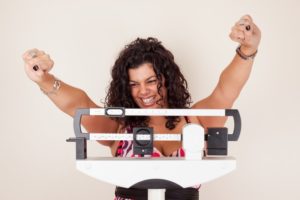 Unlike other unsuccessful attempts at weight loss, this time will be different. Rather than go on your own, you've started your journey with an experienced team and created a plan designed just for you, which includes taking Sermorelin injections, a diet plan, and an exercise routine. When you leave the office after your first Sermorelin treatment, you know it will take time for you to see results, but how much time? What can you expect? Read on to learn more about how Sermorelin in Richardson works and when you should notice a difference.
How Sermorelin Works
Sermorelin is a substance that occurs naturally in the body. Sermorelin supplements stimulate the pituitary gland, which is responsible for most hormones in the body, to produce more human growth hormone or HGH. This hormone contributes to cell growth (including muscle and bone), fat metabolism, and healing from wounds.
If HGH is such an important hormone, you may be wondering whether you should simply get HGH injections. However, this synthetic treatment can come with unpleasant and even potentially dangerous side effects, including nerve or joint pain, swelling in the arms or legs from fluid retention, increased risk of heart disease or diabetes, liver damage, and mood changes.
Instead of taking HGH directly, use Sermorelin supplements to spur the natural production of HGH without all the negative side effects of the synthetic.
After Sermorelin Injections
One of the best benefits of Sermorelin injections is that there is basically no "recovery time" required. Although you may experience some tenderness or redness at the injection site, any discomfort shouldn't last long, and you shouldn't experience any other side effects—other than medical weight loss in Richardson.
Ultimately, you should start to see results in your weight loss within six months of beginning treatment. If you use Sermorelin as one part of a comprehensive weight loss plan and stick to this plan, you'll most likely see positive change much sooner. In fact, by following a plan that integrates multiple weight loss techniques in addition to Sermorelin injections, you will likely be able to see more and longer term weight loss because you'll also learn healthy habits.
If you want to enjoy a healthier lifestyle and weight, Sermorelin may provide the jumpstart your body needs to shed excess pounds naturally and for good. Make this attempt your last and talk to your medical weight loss team about Sermorelin today!
About the Practice
Richardson Pain & Wellness is proud to offer weight loss solutions without the use of diet suppressants. With a team of medical professionals, they are able to create individualized plans for each patient, ensuring success and lasting results. Are you ready to start your weight loss journey? Contact Richardson Pain & Wellness by clicking here and schedule your appointment.
Comments Off

on What to Expect After Sermorelin Treatment
No Comments
No comments yet.
RSS feed for comments on this post.
Sorry, the comment form is closed at this time.