December 8, 2020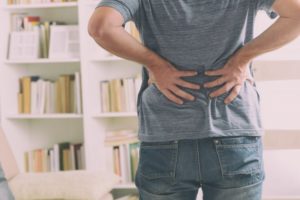 Your back—it's home to the spine, one of the most important parts of the central nervous system. The slightest misstep or wrong tweak can throw your back out. And when you're in pain, you want answers—fast! What is causing your back pain? How long will the pain last? While some questions require individualized answers after an examination, others can be addressed right here and now. Below are some of the most common questions about back pain management in Richardson with clear responses.
When I injure my back, should I lie down and rest?
At first, resting may seem like the most logical way to get well again. However, when it comes to back injuries, you can speed up the healing process by trying to remain active. As appealing as taking it easy may initially seem, keeping blood and nutrients flowing to the area can help it stay loose and heal more quickly. This doesn't mean that you should be lifting heavy weights or playing contact sports after a back injury—stick to walking and other milder, more controlled activities.
Should I use cold or heat therapy for a sore back?
Applying either an ice pack or heat pad can provide some pain relief in the aftermath of an injury, but they work in different ways. A heat pad or a warm shower can help relax tight back muscles and facilitate stretching. In contrast, a cold pack reduces inflammation and swelling. Resist the temptation to apply ice for longer than 20 minutes at a time, and be sure to wait at least 20 minutes before applying it again. Although you may prefer the numb sensation over feeling pain, prolonged exposure to the extreme cold can damage tissues.
How can I prevent back injuries?
Not all injuries are within your control to avoid, but if you take these precautions, you can keep your back aligned properly and feeling great!
Stretch often
Many back injuries occur during exercise, but your odds of experiencing one could be greatly reduced by taking a few minutes to stretch both before and after working out.
Use good posture
Whether you're sitting at a desk or lifting a something heavy, make sure you're not putting unnecessary strain on your back. When sitting, your feet should be flat on the floor, your hips slightly higher than your knees, and your back straight.
Have an ergonomic environment
If you work in an office and suffer back pain, you can ask your employer to supply more ergonomic options. From providing a supportive chair to elevating your computer screen to eye level, you can make your workspace more conducive to proper posture.
Do I need a pain management team?
If you're in severe pain or your discomfort is chronic, you may need some extra help. A pain management team can support you and help you lower pain through effective therapies without the use of potentially addictive medications.
Ultimately, the best way to get answers to your questions about back pain in Richardson is to meet with a pain management team. They can evaluate you and provide solutions specifically for your situation. You don't have to suffer—get help today!
About the Practice
Richardson Pain & Wellness is staffed with an experienced team of medical professionals. Utilizing some of the most effective treatments available, the team provides relief for patients in pain through rehabilitation, joint injections, muscle relaxers, and more. They work so that patients can avoid the use of opioids and other more habit-forming drugs. If your back in injured, contact Richardson Pain & Wellness by clicking here.
Comments Off

on Clear Answers to Your Questions about Back Pain
No Comments
No comments yet.
RSS feed for comments on this post.
Sorry, the comment form is closed at this time.