August 31, 2020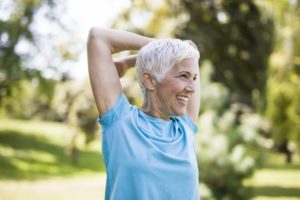 While you get ready for the day, you step onto the scale and see a higher number than you'd like. You know you should try to lose weight, but you're getting older and it's harder to shed those extra pounds. However, now is critical time to maintain a healthy weight so that you can continue to have a high quality of life later on.
As the sixth leading cause of death in the United States, Alzheimer's is a complex, serious disease that afflicts more than 5 million people nationwide and 47 million worldwide. It has been linked to poor health, disability, and gum disease, and thanks to some new research, Alzheimer's may also have a connection with unhealthy weight. In this blog post, you'll learn more about this relationship and how medical weight loss in Richardson can help keep your brain strong.
How Your Weight Can Affect Your Brain
When your body has an excess of weight, particularly in the belly area, it starts to produce a hormone that resists insulin and causes inflammation. This can not only lead to the development of diabetes, but also eventually prevent the brain from sending instructions to your body to eliminate toxic proteins that cause Alzheimer's, dementia, and other neurological diseases. In fact, studies have found that those with diabetes are about 65 percent more likely to have Alzheimer's than those without insulin resistance.
Good Habits for Strong Brain Health
If you're looking for ways to keep your brain healthy, you need to consider maintaining a healthy weight as you age. Here are some simple, proven methods for keeping your mind and body engaged.
Exercise Daily
In total, you should be getting around 150 minutes to cardio and strength training each week. That's only about 20 to 25 minutes every day!
Consult a Professional
No one said you have to venture on the path to wellness alone. When you enroll in a program for weight loss in Richardson, you can get a customized nutrition plan, jumpstart your metabolism with HCG or Sermorelin supplements, and have support throughout your wellness journey.
Socialize and Be Active in Your Community
Interacting with others does amazing things for your brain function. Even if you're a natural introvert, find something you're passionate about that you can connect with others. Volunteer or attend local events that interest you, and you can make friendships that last a lifetime.
Challenge Your Brain
Watching TV does nothing productive for your brain health. Instead, try reading, completing Sudoku or crossword puzzles, or developing a new talent like painting.
When you take control of your overall health and weight, you ensure that your brain has the best possible chances of staying strong as you get older. By doing these things, you can stay sharp for many years to come.
About the Practice
Richardson Pain & Wellness has a team of highly trained and qualified medical professionals, including a register dietician, who can create a personalized treatment plan just for you. Unlike other weight loss programs, we do not use appetite suppressants, which can be dangerous for your heart health. We offer supplements like HCG and Sermorelin to jumpstart your metabolism. To learn more about medical weight loss, you can contact Richardson Pain & Wellness by clicking here.
Comments Off

on Can Losing Weight Help You Avoid Alzheimer's?
No Comments
No comments yet.
RSS feed for comments on this post.
Sorry, the comment form is closed at this time.