June 7, 2020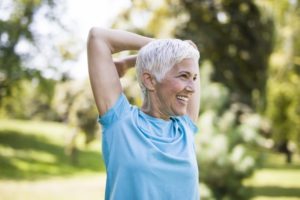 For you, losing weight is a difficult struggle. You've tried another diet and exercise regimen, and yet you haven't shed much weight at all. The problem may be that you're producing less growth hormone, which is responsible for keeping your basal metabolic rate up. As a result, your body isn't burning fat like it should when you consume fewer calories and exercise. This situation may not be your fault, and there is a treatment for weight loss in Richardson that may help your body be more efficient and yield encouraging results.
Why Are Growth Hormones Important for Weight Loss?
While you sleep, your body produces hormones that repair and heal the body after intense workouts and help you maintain muscle mass and definition. When these growth hormones are working properly, your body continues to burn calories even during rest, helping you keep a healthy weight.
For various reasons, you can have growth hormone deficiency, impacting your ability to safely keep your resting metabolic rate high. If any of the following apply to you, you may be at an increased risk of growth hormone deficiency:
Over the age of 40
Poor sleep
Little or no intense exercise
Overweight
Smoking
Diabetes
When you don't produce enough growth hormones, you can fail to see the positive results of your hard work in diet and exercise. Fortunately, however, there's a solution: Sermorelin injections.
What Is Sermorelin?
Sermorelin is a formulated hormone that promotes the natural production of human growth hormones involved with metabolism. It also can be used as anti-aging treatment because it helps to spur new tissue growth. Unlike many other weight loss and hormone therapies, Sermorelin activates the body's natural processes instead of introducing the human growth hormones directly. As a result, you can avoid the negative effects that HGH injections can have, including joint or muscle pain, swelling in the arms and legs, and increased insulin resistance. With a few injections, Sermorelin treatment can have your body back on track and jumpstart your medical weight loss in Richardson without putting your health at risk.
Why Choose Sermorelin?
In addition to more efficient metabolism and weight loss, Sermorelin injections can have other benefits. For example, with improved growth hormone production, you may experience more energy, leaner muscle mass, more strength and bone density, better sleep, a stronger immune system, and better skin quality and collagen density. All of these are common and uncomfortable symptoms of aging, and this treatment can help you overcome them all!
You don't have to starve or workout until you pass out in order to see results on the scale. If you've struggled in your weight loss journey, seriously consider this treatment, which can activate your body's ability to heal and improve on its own. Perhaps all you need is a little boost in the right direction, and Sermorelin can do just that!
About Richardson Pain & Wellness
Richardson Pain & Wellness is proud to offer Sermorelin injections for patients seeking to safely lose weight and fight the natural signs of aging. With highly trained professionals, our team can analyze the levels of growth hormones in your blood and determine whether this treatment may benefit you. If you have questions about Sermorelin injections, contact Richardson Pain & Wellness.
Comments Off

on Need a Natural Boost for Weight Loss? Sermorelin Is the Answer!
No Comments
No comments yet.
RSS feed for comments on this post.
Sorry, the comment form is closed at this time.