February 20, 2020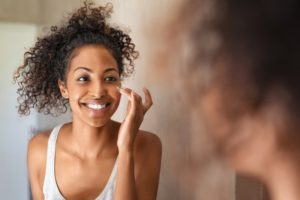 As an early-career professional, you put in long hours. At the end of an exhausting day, you go to the sink in the bathroom and take a look in the mirror. So far, your face only shows tiny signs of wear and tear, but honestly, how long will that last? You wonder about when you'll need to start worrying about wrinkles and other signs of aging. The answer is now! Anti-aging treatment in Richardson should begin early on to keep those unattractive traits to a minimum as you get older. Read on to learn reasons you should start taking special care of your skin early on.
Daily Skincare Is Easy
How long does it take to wash your face? A minute or two. How about applying moisturizer to your face? Even if you rush to get ready in the morning, chances are that you can squeeze in a few minutes to give your skin a boost. In the morning, washing your face can help you wake up and feel more alert as you start the day. In the evening right before bed, a wash can remove the grime, dirt, chemicals, and other impurities that have accumulated on your face throughout the day. By establishing a routine early, you make it easier to maintain as you get older, increasing your chances of avoiding wrinkles.
Your Habits Make a Difference
Unfortunately, there are a lot of bad habits you can develop that can cause long-term damage to your skin. Even if you don't notice immediate symptoms, smoking, prolonged sun exposure, and heavy drinking will catch up to you at some point and cause premature aging, not to mention impair your overall health and quality of life. If you want to continue to enjoy a youthful glow in your skin for as long as possible, you need to avoid or stop these harmful habits.
Another nasty habit that you should break as early as possible is having a poor diet. What you eat impacts the elasticity, strength, and vibrancy of your skin, which means you need to make choices that nourish it. Processed or fried foods contain ingredients that can damage your skin in the long run. By eating broccoli, nuts, whole grains, and the like while you're young, you ensure that healthy living will be much easier as you age, and it will show.
Aging Is Simpler to Prevent Now Than Treat Later
Have you ever heard the saying that an ounce of prevention is worth a pound of treatment? Well, although treatments like Botox make turning back the clock possible, the best way to approach wrinkles and other signs of aging is to avoid them from the start. It's another reason why you should be thinking about your skin, applying sunscreen, eating right, and doing everything you can right now to keep your skin as healthy as possible for as long as possible.
In the end, you don't have to simply accept what time doles out to your skin. You can and should take action now to help your skin retain its youthful qualities. As you take care of your skin on your own, you can also reach out to wellness professionals, who can administer treatments specifically designed to help patients fight the signs of aging.
About Richardson Pain & Wellness
Richardson Pain & Wellness specializes in helping patients feel more like themselves. We offer a wide range of anti-aging treatments, including vitamin D, B12, testosterone injections, and more. In addition, we can provide treatments that reduce wrinkles and fine lines with Botox. If you would like to schedule an appointment with Richardson Pain & Wellness, you can contact them by clicking here.
Comments Off

on 3 Reasons to Start Your Anti-Aging Efforts Now
No Comments
No comments yet.
RSS feed for comments on this post.
Sorry, the comment form is closed at this time.