November 25, 2019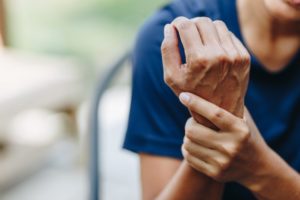 You're buying your dream car. It has everything you want, and you're excited to enjoy your new ride. You pick up the pen and start to sign your name for the first of many times. Then, you have pain emanating from your fingers and hand. They've been hurting frequently lately. Could it mean that something is wrong? Rheumatoid arthritis is a chronic inflammatory condition that attacks the joint membranes. It frequently occurs in the hands, knee, fingers, and feet, but its effects can even cause systemic illnesses throughout the body. The good news is that there is a treatment solution that can keep RA under control—joint injections in Richardson. But how do you know that you have RA? What are the signs and symptoms of this disease? Well, keep reading to find out!
Pain or Tenderness
Pain is one of the most common telltale symptoms of RA. When a joint becomes inflamed, the nerves around it relay painful signals to your brain. Or at minimum, the nerves can be irritated and sensitive to the touch. As a result, you can struggle to fall or stay asleep and perform daily functions. Joint injections, which can be combined with a local anesthetic, can be used for pain management in Richardson.
Swelling or Loss of Range of Motion
Although it can vary from patient to patient, swelling is very typical. In fact, swelling can even interfere with the joint's range of motion, and limited function of the joint can obvious affect quality of life. Most of the time, those who experience swelling are easily able to feel a difference, even if it isn't noticeable to others visually, but joint injections can reduce the inflammation and restore at least some of the joint's function.
Warmth
When inflammation is active, the joints can feel especially warm. In other cases, the joint appears red because the capillaries in the skin dilate from the inflammation. With treatment, this uncomfortable symptom should subside.
Stiffness
Patients with active RA inflammation tend to struggle with stiffness in joints more in the morning hours, rather than later in the day. In most cases, the period of stiffness can be used to diagnose and better understand the severity of the patient's inflammation. By getting certain joint injections, you can combat stiffness through promoting the body's natural healing process.
Multiple Joints Affected
If you experience any of these symptoms in more than just one joint, you may have RA. In fact, it is rather infrequent when RA affects just one joint. Rather, it usually impacts both sides of the body symmetrically and can involve more than four joints at a time.
You don't have to accept and suffer with these symptoms in your daily life. If you have any of these symptoms, it is important to address the problem as soon as possible in order to keep permanent damage to a minimum and to allow you to continue enjoying a high quality of life for many years to come.
Richardson Pain & Wellness
At Richardson Pain & Wellness, helping patients manage their arthritis pain is an essential part of their mission. They offer various joint injections, including steroids, adult stem cells, and platelet rich plasma injections, to relieve pain and facilitate healing. If you have questions about joint injections, you can contact the team at Richardson Pain & Wellness by calling (972) 907-1125 or clicking here.
Comments Off

on 5 Early Symptoms of RA That Joint Injections Can Treat
No Comments
No comments yet.
RSS feed for comments on this post.
Sorry, the comment form is closed at this time.