March 18, 2019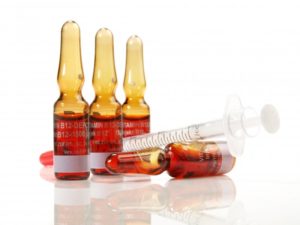 There are so many things your body can do for itself to stay healthy. One thing it can't do is make vitamin B12. Together with folate, vitamin B12 is essential to the synthesis of DNA and red blood cells. It also plays a role in the production of the myelin sheath that surrounds nerves as well as the conduction of nerve impulses. Vitamin B12 deficiency can be detected with a blood test at your doctor's office and treated with B12 injections in Richardson.
Common Symptoms of Vitamin B12 Deficiency
Symptoms of vitamin B12 deficiency sometimes look like the signs of other serious health issues, including Alzheimer's, dementia, multiple sclerosis, and several mental illnesses. These symptoms include:
Brain fog, confusion and memory troubles
Numbness or tingling in your feet and hands
Depression
Fatigue
Weakness
Weight loss in Richardson
Anemia
Cognitive decline
Constipation
In children, the signs of vitamin B12 deficiency also include developmental delays and learning disabilities.
How Does the Body Get B12?
Because your body does not make B12, you must get it through animal-based foods or from supplements. And because the body doesn't store vitamin B12 for long, you must supply it on a regular basis.
You cannot get this vitamin from plant-based products, but only from animal sources such as dairy products, eggs, fish, meat, and poultry. Therefore, people on vegetarian or vegan diets need to be especially aware of the signs of vitamin B12 deficiency.
Other groups of people who have a higher risk include people over age 60, people on certain medications for diabetes, people with Crohn's disease, celiac, ulcerative colitis and irritable bowel syndrome and women with a history of infertility or miscarriage.
Treating Vitamin B12 Deficiency
If possible, the best way to boost your intake of B12 is through healthy eating. Some foods that are rich in this vitamin include liver, clams, oysters, lamb, beef, eggs and cheese.
If supplements are necessary, then consider B12 injections in Richardson. With the correct dosage and length of treatment, injections may help maintain good brain function and decrease mental degeneration that can happen with aging.
Seek help immediately if you are experiencing any of the signs of vitamin B12 deficiency mentioned above. People that do not eat animal-based food products should also be aware of the signs and be tested to ensure they do not have a deficiency.
Meet the Doctor
Dr. Zinovy Chukhman is a chiropractor in Richardson who is trained and experienced in all manner of pain relief and wellness. If you need conservative pain management, hormone therapy including vitamin B12 injections, medical weight loss, or anti-aging treatment, call the office today to schedule an appointment.
Comments Off

on Stay Healthy with B12 Injections in Richardson
No Comments
No comments yet.
RSS feed for comments on this post.
Sorry, the comment form is closed at this time.