December 17, 2018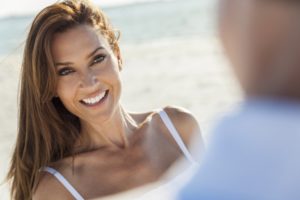 Many decisions in life require weighing the risk vs. the reward. One such decision that many women face is whether or not to start hormone replacement therapy, or HRT, to treat menopausal symptoms such as hot flashes, vaginal dryness and osteoporosis. Turns out there may be less risk than was reported 10 to 15 years. Read on to learn more about hormone replacement in Richardson.
The Study
In a randomized study, 27,347 women taking hormone medication were followed for 18 years. The Women's Health Initiative hormone therapy trials tested women taking estrogen alone and estrogen plus progestin. After 18 years, the effect of hormone therapy on mortality rates was assessed—those taking hormone medication were no more likely to die of any cause than women taking a placebo.
The study also showed that deaths from Alzheimer's disease and other forms of dementia was actually much lower among women taking estrogen only medication when compared to those taking a placebo during the 18-year follow-up.
The Take Away
In Richardson, hormone therapy is an effective means of reducing hot flashes and other menopausal symptoms. Historically, the therapy has been linked to serious health risks such as some types of cancer, blood clots and stroke.
However, the Women's Health Initiative hormone therapy trials found no connection between this type of therapy and all-cause mortality during treatment or long-term follow-up. The study's findings should be reassuring to women and their doctors that HRT is a reasonable choice for women in generally good health who are experiencing symptoms of menopause.
What About the Old Studies?
Many women may remember studies conducted in the early 2000s that announced HRT was harmful and increased the risk of fatal breast cancer. Still another study concluded that taking estrogen plus progestin increased the risk of dementia. Consequently, hormone therapy quickly declined after these studies were published.
Today, the medical community has changed its mind about HRT, although there is always more to learn. Thus, The North American Menopause Society recommends that a woman and her doctor find the hormone therapy that is most appropriate for her circumstance.
If you would like to learn more about hormone replacement therapy in Richardson, please schedule a consultation today. A hormone therapy doctor is committed to your good health and your best quality of life.
Meet the Doctor
Dr. Zinovy Chukhman is a chiropractor in Richardson who is trained and experienced in all manner of pain relief and wellness. If you need conservative pain management, hormone therapy, medical weight loss, or anti-aging treatment, call the office today to schedule an appointment.
Comments Off

on Hormone Replacement in Richardson is a Not-So-Risky Bet
No Comments
No comments yet.
RSS feed for comments on this post.
Sorry, the comment form is closed at this time.