January 5, 2023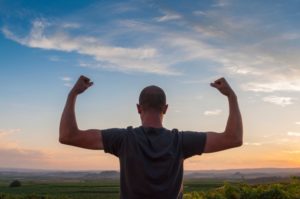 You don't feel the way you used to. Now you have lower energy, sex drive, and muscle mass, and you want to get some of that back. Or perhaps you're a transgender man, and you want your body to reflect who you really are.
No matter the reason, taking testosterone hormone therapy may provide the results you are looking for. But how long does the process take? How long will it be until you see the effects? In this post, you'll learn more about when you can expect to have noticeable benefits of this treatment.
One-Size-Fits-All Testosterone Doesn't Exist
First and foremost, when it comes to hormones, there isn't one magical amount that is optimal for everyone. Furthermore, the perfect numbers for your body depend largely on your genetics and your age. In other words, the amount and frequency of your testosterone treatment will greatly vary from patient to patient, as will the timeline for the effects to manifest.
When You May See Changes
Testosterone has a hand in many functions in the body, especially for males, and these effects don't kick in all at once. For instance, it may take between three and six weeks for mood regulation to come out, but it could be several months before a significant change in muscle mass becomes noticeable. Libido, stamina, and other sex-related issues may improve more quickly than other changes. Your provider may be able to give you a more detailed time frame, but ultimately, it's just a professional guess.
Risks of Taking Too Much Testosterone
At first, it might make sense that the more testosterone you take, the sooner you'll see the effects. However, this logic is flawed. It takes time for the body to adjust to new hormone levels—in some cases, namely gender affirmation for transgender men, testosterone treatment can be a second puberty.
Taking a high dosage of testosterone doesn't necessarily speed up the process. In fact, it may cause more harm than good for your overall well-being. In most cases, it's best to take a smaller, healthy amount over time and be patient for the results than to rush things and risk your health.
Ultimately, there's a reason why you need to work with an experienced medical team for testosterone hormone therapy. They can make sure you take this treatment safely and enjoy the benefits. You may have to wait a few weeks or even months, but the results will be well worth it!
About the Practice
At Richardson Pain & Wellness, our team is trained in hormone therapy and is an LBGT-friendly practice. During your first appointments, we will determine the appropriate amount of testosterone to give you, so you stay safe during treatment while seeing improvement as quickly as possible. If you are interested in learning more about hormone therapy, reach out to us and schedule a consultation by calling 972-907-1125 or visiting our Contact Us page!
Comments Off

on When Will You See Results of Testosterone Hormone Therapy?
No Comments
No comments yet.
RSS feed for comments on this post.
Sorry, the comment form is closed at this time.