September 26, 2022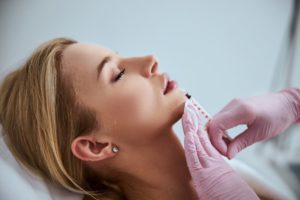 When you have work done to improve your appearance, most of the time, you simply sit back and let the provider do everything for you. But sometimes, the procedure comes with a list of things you should and shouldn't do in the days leading up to it. Getting dermal filler injections is no different. Here are four things you need to do to prepare for dermal fillers so that you don't experience swelling and bruising, the two most common side effects of this treatment.
Tell Your Provider about Your Medications and Medical Conditions
All medications come with side effects, and your provider must know what you're currently taking. For instance, some medications like blood thinners or anti-inflammatory medications can make bruising more likely after a dermal filler injection. After confirming with your prescribing doctor, avoid medications that cause this side effect for about a week before the injection. Keep in mind that Tylenol or acetaminophen can be taken for pain safely in the meantime.
In addition to the medications you take, you should also tell your provider if you are pregnant or nursing or are allergic to any medications. This information may determine whether you can get dermal fillers or need to wait until it's safe.
Refrain from Alcohol
Among alcohol's many effects on the human body, blood thinning is one you may not be aware of. Prior to getting your dermal filler, you should stay away from alcohol for at the very least 24 hours, but a minimum of three days is best for your blood to be rid of trace amounts of alcohol.
No Hair Removal Beforehand
Perhaps dermal fillers are just one part of a makeover you're doing for yourself. Maybe you also want to get rid of unwanted facial hair as well. However, timing these procedures too close together could lead to irritation at the injection site(s). If you are getting hair removal treatments, chemical peels, or other procedures done, make sure it's completed at least two days prior to your fillers appointment. Or you can wait until after your fillers have been injected to deal with your facial hair.
Eat Less Salt
Salty foods may be tasty, but they also cause your body to retain water. This means that you could swell up more after the injections. Try to avoid salty foods for a few days beforehand to reduce the risk of swelling.
These tips may seem simple, but they can greatly reduce your risk of having a negative reaction to the injections. By making a few sacrifices before the treatment, you can focus on how great you look afterward and how confident you feel about yourself!
About the Practice
For beauty and anti-aging, Richardson Pain & Wellness offers many services, including BOTOX, dermal fillers, and HGH injections. In addition to these treatments, we provide assistance with weight loss and pain management with the goal of helping you be the best version of yourself. If you would like to learn more about dermal fillers, you can reach out to our team by calling 972-907-1125 or clicking here.
Comments Off

on Preparing for Dermal Fillers: 4 Things You Should Do
No Comments
No comments yet.
RSS feed for comments on this post.
Sorry, the comment form is closed at this time.