April 29, 2022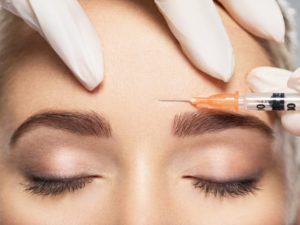 Let's face it—the last couple of years have been stressful and have put a lot of wear and tear on you. Between changing jobs, dealing with a global pandemic, and now facing inflation, you may be looking older than you want. Wrinkles have been setting in, but there are options to fix them!
When you think of getting rid of wrinkles, you probably think of BOTOX or dermal fillers. You may even refer to these treatments interchangeably, but they are actually different! Keep reading to find out more about each type of treatment and how you can determine which one will best suit your anti-aging goals.
What Is BOTOX?
BOTOX is short for botulinum toxin, which sounds a little scary at first. This chemical is a neurotoxin, but it has been used for many years now to deal with a host of problems including TMJ or migraine pain as well as aesthetic wrinkles on the forehead and around the mouth. This substance simply relaxes the facial muscles that contract when you move—frown, smile, laugh, etc. It makes sense why these wrinkles are called dynamic wrinkles!
What Are Dermal Fillers?
Sometimes, facial wrinkles form not as a result of muscle contractions but because the skin simply loses its youthful boost. Over time, collagen, which makes skin appear robust and full, becomes reduced, causing the skin to bunch up in certain areas of your face called static wrinkles. Dermal fillers replace lost collagen and stimulate collagen production so that skin continues to appear plump and less wrinkled again.
Finding the Right Anti-Aging Treatment
Although both of these treatments have been found effective for reducing wrinkles and signs of aging, they work in vastly different ways. For dynamic wrinkles, BOTOX goes below the skin's surface to the facial muscles underneath, which is only one major cause of wrinkles. In contrast, dermal fillers add collagen to the skin and literally fill areas where the skin has lost elasticity and plumpness.
In order to identify the treatment(s) that will best help you achieve the results you're looking for, you need to work with a team of experienced professionals. They can discuss your goals with you, examine your face, and create a treatment plan designed specifically for you.
Whether you received BOTOX or dermal filler injections to address your wrinkles, you can have confidence in your appearance again. You can keep the wear and tear of the years from showing on your face by choosing the right treatment for your fine lines and wrinkles. When you and your anti-aging team take the right approach, you can turn back the clock and hold onto your youth!
About the Practice
At Richardson Pain & Wellness, we help patients overcome more than just pain. We focus on the overall wellness of our patients, including providing anti-aging treatments. In addition to BOTOX and dermal fillers, we also offer HGH, Sermorelin, B12, and PRP injections, depending on your unique situation, needs, and goals. To schedule a consultation with our team, you may contact Richardson Pain & Wellness online or by calling our office at 972-907-1125.
Comments Off

on What's the Difference Between BOTOX and Dermal Fillers?
No Comments
No comments yet.
RSS feed for comments on this post.
Sorry, the comment form is closed at this time.